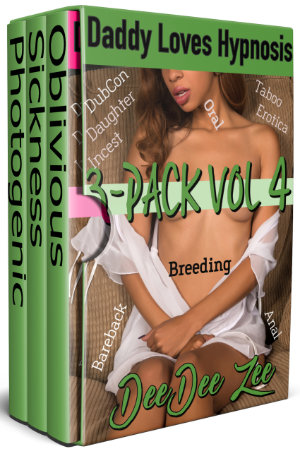 Daddy Loves Hypnosis 3-Pack Volume 4
3-in-1 bundle containing titles: Oblivious, Sickness, and Photogenic.
About the Book
3-in-1 box set featuring three different fathers hypnotizing their daughters into sex.
Oblivious (10)
Two daughters under hypnosis means twice the baby-making fun for Daddy during family TV time.
Sickness (11)
Post-hypnotic suggestion has his daughter thinking Daddy's hard-on is caused by a terminal disease she can cure by having sex with him.
Photogenic (12)
Daddy borrowed a buddy's camera and pressed a button that put his daughter in a hypnotic trance. Of course he took advantage of the situation.
This FICTION short is for ENTERTAINMENT PURPOSES ONLY and is intended for MATURE AUDIENCES ONLY (18+). It contains daddy-daughter hypnosis sex, dubious consent, lesbian sex, sex toys, anal and vaginal penetration, fisting, and bareback creampie sex.
Other Books in "Daddy Loves Hypnosis"