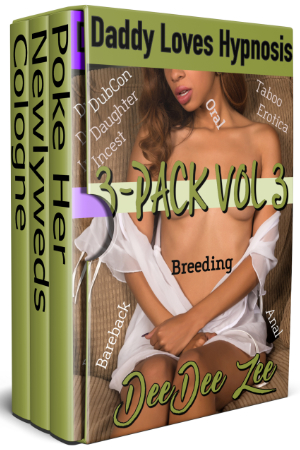 Daddy Loves Hypnosis 3-Pack Volume 3
3-in-1 bundle containing titles: Poke Her, Newlyweds, and Cologne.
About the Book
3-in-1 box set featuring three different fathers hypnotizing their daughters into sex.
Poke Her (07)
Poker night with his daughter is something he always look forward to. Even more now that Daddy has hypnotized her into betting sex.
Newlyweds (08)
With hypnosis, Daddy has his daughter believing they just got married, and she wants this special night to be dedicated to conceiving their baby.
Cologne (09)
Post-hypnotic suggestion makes his daughter horny as hell when she smells Daddy's cologne. She needs his big D in all holes to calm down again.
This FICTION short is for ENTERTAINMENT PURPOSES ONLY and is intended for MATURE AUDIENCES ONLY (18+). It contains daddy-daughter hypnosis sex, dubious consent, virgin sex, breeding, anal and vaginal penetration, and bareback creampie sex.
Other Books in "Daddy Loves Hypnosis"