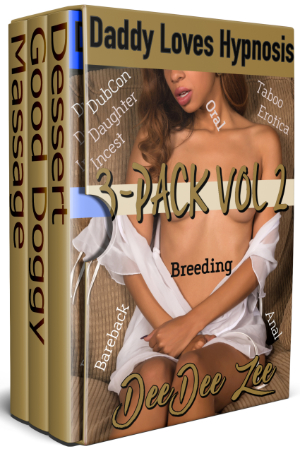 Daddy Loves Hypnosis 3-Pack Volume 2
3-in-1 bundle containing titles: Dessert, Good Doggy, and Massage.
About the Book
3-in-1 box set featuring three different fathers hypnotizing their daughters into sex.
Dessert (04)
Thanks to an app, his bratty daughter's favorite dessert is creampie pussy. She begs him for it until she gets it. At the rate he's going, there's going to be a new addition to the family in a few months.
Good Doggy (05)
His daughter is a disrespectful brat. Or she was. After bribing her into watching a hypnosis app, she's now Daddy's obedient bitch.
Massage (06)
He's used his hypnotherapy skills on his daughter. She is hardworking and needs Daddy's special deep-tissue massage to relax.
This FICTION short is for ENTERTAINMENT PURPOSES ONLY and is intended for MATURE AUDIENCES ONLY (18+). It contains daddy-daughter hypnosis sex, dubious consent, pet play, oral sex, anal and vaginal penetration, breeding, and bareback creampie sex.
Other Books in "Daddy Loves Hypnosis"