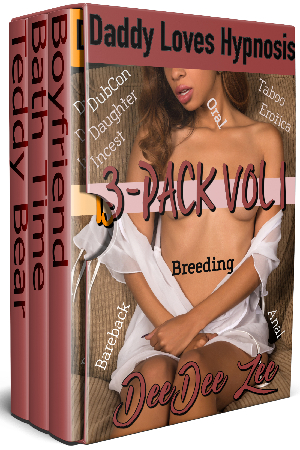 Daddy Loves Hypnosis 3-Pack Volume 1
3-in-1 bundle containing titles: Boyfriend, Bath Time, and Teddy Bear.
About the Book
3-in-1 box set featuring three different fathers hypnotizing their daughters into sex.
Boyfriend (01)
When he snap his fingers, his daughter sees Daddy as her boyfriend. It's all thanks to a site he found that taught him hypnosis. Now he gets to enjoy all the perks of dating.
Bath Time (02)
His daughter hums when she gets out of the shower. That's his cue to step in with his hypnosis app. Once she's under, bath time with Daddy starts.
Teddy Bear (03)
He hypnotized his daughter into thinking he's a giant anatomically correct teddy bear sex toy. And she loves to play with him.
This FICTION short is for ENTERTAINMENT PURPOSES ONLY and is intended for MATURE AUDIENCES ONLY (18+). It contains daddy-daughter hypnosis sex, dubious consent, vaginal and anal sex, oral sex, and bareback creampie sex.
Other Books in "Daddy Loves Hypnosis"