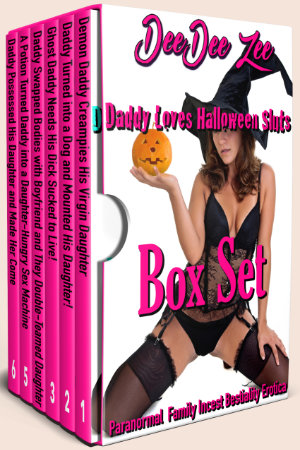 Daddy Loves Halloween Sluts Box Set
6-in-1 bundle of Daddy-daughter incest loving with a paranormal twist.
About the Book
6-in-1 bundle of Daddy-daughter incest loving with a paranormal twist.
Demon Daddy Creampies His Virgin Daughter
I'm there to do what demons do—take her soul. But I'll settle for taking her virginity while possessing her dad's body.
Daddy Turned into a Dog and Mounted His Daughter!
My time as a dog is almost up. But before I turn back, I want to see just how much of a dog lover my daughter really is.
Ghost Daddy Needs His Dick Sucked to Live!
I'm not actually dying, but I'm not going to tell my daughter that when she's determined to screw me back to life.
Daddy Swapped Bodies with Boyfriend and They Double-Teamed Daughter
I'm in her boyfriend's body and he's in mine. The only way to switch us back is sex…with my daughter.
A Potion Turned Daddy into a Daughter-Hungry Sex Machine
An energy drink gave me an erection that drives my daughters crazy for sex and the urge to fill every one of their holes.
Daddy Possessed His Daughter and Made Her Come
I can make anyone do anything I want by taking control of their body. Left alone with my daughter, I use the talent on her.
This FICTION short is for ENTERTAINMENT PURPOSES ONLY and is intended for MATURE AUDIENCES ONLY (18+). It contains Daddy-daughter, sister-sister, and mother-daughter incest dubcon sex, mind control, bestiality, double penetration, group sex, menage, domination, oral, vaginal and anal penetration, bareback creampie, and seeding.
Other Books in "Daddy Loves Halloween Sluts"