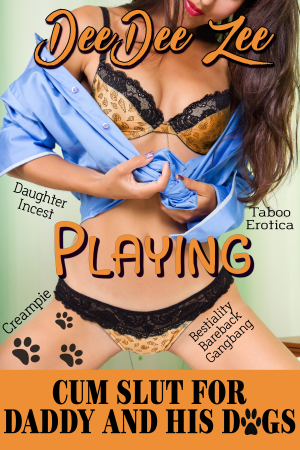 Playing
His definition of playing with the dogs is binding and gagging his daughter so they can take turns.
About the Book
My wife thinks our daughter is out playing with the dogs. She's not wrong…not completely. What they're doing could be considered a type of playing. Bound and gagged, my daughter loves letting the dogs take turns. I even get in on the action before untying her. She loves that too. But she's headed to college soon, so it's time to wean the dogs off this sort of play. We agreed to limit playtime to ten minutes…she meant per dog, right?
This FICTION short is for ENTERTAINMENT PURPOSES ONLY and is intended for MATURE AUDIENCES ONLY (18+). It contains Daddy-daughter incest sex, bestiality bareback gangbang, oral, vaginal and anal penetration, and lots of creampies.
Other Books in "Cum Slut for Daddy and His Dogs"